Every business owner, small or big, wants to reflect their personality onto their brand. We believe it is essential that people can express themselves and appeal to an audience. In this way, customers will appreciate the service and product more sincerely.
Creating a business card is one of the most overlooked task in establishing your brand. You can learn more about making cards from 48hourslogo.com. Let's take a look and see how you can assert your personality in every aspect of your business. We'll discuss why you need to get started on blogging, how to talk to your clients, and how you can visually represent your brand through web design.
Establish Your Brand Voice Through Blog
When you finally decided to open a business, the next thing you should do is to make a blog website to establish your brand voice. In most cases, brand voice is the one reflecting your personality. An excellent way for customers to find your website is through your blog content. Everyone knows that first impressions count, so it is essential to take the opportunity to generate creative content to show your personality traits that are attractive to the audience.
Every content creator has a creative way of speaking. Think of your favourite Youtuber, for example. What are the things you like about them? You'll probably discover that a lot of people have the same content. The only way to differentiate is their character and mannerism. If you want to build a fresh voice, a blog site is an excellent starting point.
Engage With Your Online Followers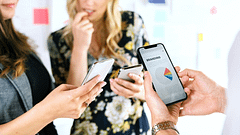 Engaging with people interested in your content, services, or products can establish your brand further. Facebook alone has about 2.38 billion active users every month. Numerous people would enjoy talking about your business related to your niches, such as information about the current market or their products.
You are making your character shine through talking to your online followers. They can get a glimpse of your personality behind the brand you are promoting. This method is useful for those who want to widen their business, as it allows them to know what kind of marketing strategy works to attract their audience.
Strengthen Your Web Design
You can express your personality through the design of your website. We realize that colour has a profound influence on how men and women perceive our brand. When designing your website, try to coordinate your style with your personalities, such as text images, fonts and colours.